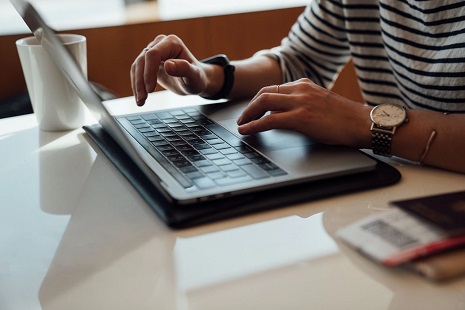 Do you know how it feels when you desperately need some cash to solve the urgent monetary issues? Your brain rejects to work and you simply can't figure out where to turn to. Almost every person has experienced this scrutiny and knows how devastating and embarrassing it may be to ask for financial help.
Yet, there exist several options for consumers who don't have enough cash in their pocket or savings in their bank account. We all heard about payday lending and many American citizens have turned to alternative online creditors for quick help. However, authorities have banned this type of lending in many states. Read on to find out if this financial solution is legal in your area.
Where Are Payday Loans Prohibited?
First of all, let's see where the outlawing of this lending solution takes place. It's important information for potential borrowers and consumers who are willing to take out a cash advance online same day but want to be sure it is legal. Nowadays, this lending option is banned by law in 13 states of the US including Washington DC.
This is meant to help American citizens get rid of the eternal debt cycle and become more responsible for their personal finances. Due to the lack of financial education, many young and middle-aged people don't have enough knowledge to protect themselves from endless loans and strive for financial freedom. Therefore, not every person knows where to stop borrowing and start earning more instead.
Currently, such states as Arkansas, Arizona, Connecticut, Maryland, New Jersey, Georgia, Massachusetts, North Carolina, New York, Pennsylvania, West Virginia, and Vermont ban payday lending. However, it pays to do your own research on this topic because some states strictly ban it while others have certain fixed interest rates or other restrictions but still make this option possible.
This is the current legal status of payday loans on the territory of the USA.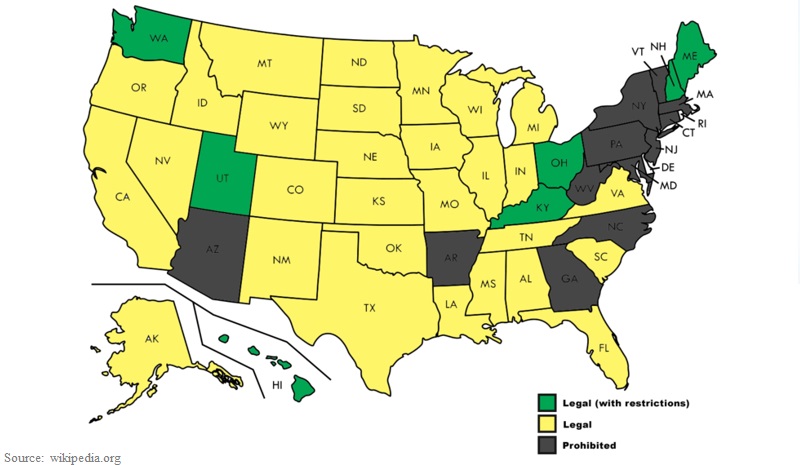 Is It a Good Decision?
Many politicians and famous people have shown their disapproval of payday lending as an industry that is highly based on targeting poor consumers and using high-interest rates.
"Our hardworking American citizens are trapped in a vicious cycle of debt"

mentioned ex-president Obama in his speech in Birmingham
But still, there is a high demand for this financial market and over 19 million borrowers seek quick financial help annually. Some clients select between a payday loan or installment loan as the second option is more flexible and usually comes with better terms and rates for a longer period of time.
Even if payday lending is currently prohibited in certain states, there is an option of pawn shops that are still open and also give out small sums of cash for those in need. It is interesting that the authorities don't pay attention to this lending solution and don't make it illegal too.
What is the difference between a payday loan and a pawn shop? Why is the first one banned in many states while the second variant is still available? These two solutions for obtaining fast cash are made to help consumers solve their urgent monetary problems if there is no way out. In case, you can't opt for any of the above-mentioned alternative ways to get additional money, you may qualify for these solutions.
The main difference is that the small cash loan can be given between $100 and $1,000 until the next payday, which means for just a couple weeks, while the money from the pawn shop can be taken in bigger sums. Also, payday lending is unsecured but pawn shops require collateral to secure it.
Typically, the borrowers are demanded to provide jewelry or a laptop as temporary collateral. Thus, creditors frequently don't check the credit history of the borrowers, so almost every person tends to choose this solution as it's the quickest and easiest one. As a result, more and more people find themselves deep in debt as they can't figure out how to stop borrowing and become financially-fit.
---
Reasons for Prohibiting Small Online Loans
Now, it's time to explain why this happens and why payday lending is banned in many states. There are several serious reasons for this decision:
Endless debt cycle – many consumers don't understand the reality of such borrowing and obtain new loans to consolidate the previous one, and so on. This cycle can be never-ending which makes people victims of their own ignorance.
High-interest rates – this is one of the most significant issues of small online cash loans. It makes this lending solution rather expensive in the long run and can hurt your personal finances if you use it too often.
Unnecessary Expenses – more and more people decide that this quick and easy solution is helpful for borrowing money for unnecessary and useless items, luxury clothes, or vacations. They don't fully understand that this is not their own money but it needs to be repaid.
Credit history – there is a risk that a borrower won't be able to repay the debt on time, which may lead this case to the debt collectors and damage their credit history in the end.
---