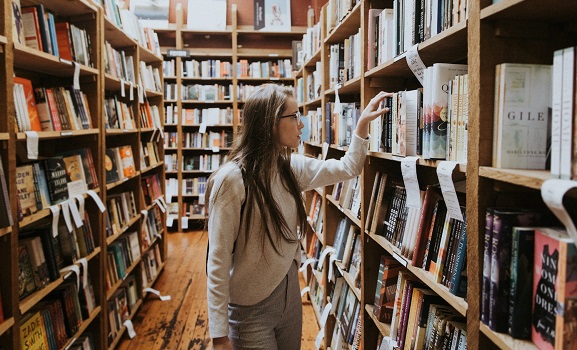 How often do you go to the library? Do you believe this place is old-fashioned and doesn't require your attention? Well, screens do replace printed books these days. But the library has still lots to offer you at the cheapest price. There are many reasons why people take loans, but you don't need much money this time. There is so much more than just books you may borrow. Let's get some insight into the money-saving secrets of your local library. Find out the best and unexpected ways a library can help you save money in various aspects of your life.
#1 Books
This is the number one obvious advantage of the libraries. There are tons of books on various topics and genres that you may find and read. The opportunity to borrow different books for a few weeks is an excellent way of saving your money.
You can find books for your kids as well which saves even more of your family budget. Even high school and college students can benefit from going to their local library as they can search for great literature and free books for their education.
Many people spend spree on books that end up piling on the bookshelves covered with dust and completely neglected. Are you one of those who first decide to purchase books and then forget to read them or don't finish till the end because the book turned out boring.
By renting books from the library you can be sure that you have the right to review and read the book without the necessity to pay money. If you don't like it, you will save money in your pocket. And if you finish reading it and still want to refer back to it in the future, you can always buy the printed or online version.
#2 Preview Music/Audio Books
Are you fond of music? Do you often buy various CDs? It usually happens that you need to purchase a CD in order to listen to the songs and realize you don't like half of them. But you can't get your money back and this becomes another waste of money.
You can actually change it by going to the library and choosing the CDs which you can listen from the beginning till the end. If you find all the songs really exciting you may then go to the store and purchase it. So, a library can help you decide which music to buy.
The same is about audio books which you can easily listen to while sitting in the library. This way you are able to find the best and modern collection of books on CDs. Such online services as Overdrive are widely used across the country and they allow people to listen to audio books and CDs on their mobile devices.
#3 Magazines
Check out the archives of your library before you subscribe for magazines of your choice. There is a wide range of magazines suitable for different age groups and interests. Libraries subscribe to various magazines based on popularity so you can even ask them to buy a subscription to your favorite one if it's not included in their archive.
Every reader may reach for numerous magazines and enjoy them for free and when they want to. In addition, you can feel more responsible about nature as you don't need to think about disposing or recycling the used ones. Reading magazines in the library also offers the opportunity to share them with multiple readers.
#4 Cheap Movies
Do you agree that Netflix and Redbox are getting too expensive? Of course, you can ask for money somebody if you haven't enough, but how about saving some money on movies and cinema? Most movies are available in your local library and you won't have to spend a lot to watch them. You can even reserve films in advance with an online interface that most libraries offer and enjoy the movies for free.
#5 Free Workspace
Are you struggling to make ends meet? Are you a student, a freelancer or a young entrepreneur trying to start your own business? In any case, you may already know how hard it is to find the money for renting an office. And you certainly won't feel concentrated and motivated working from home. We have a perfect solution for you – your local library can become your free workspace while also providing you lots of benefits and free information.
This option is called co-working when you pay for the membership in order to get access to multiple perks and benefits which include all-day access to the internet, the building itself, as well as various supplies and even printers. Sounds interesting? Make sure you check the information with your local library. They can also offer discounts for community and networking events.
All in all, a library can be much more than just a place for borrowing books. Enjoy these extra perks and benefits of your local library that will help you save the money.
Does a Credit Score Impact Your Loan's Eligibility?
Actually, it is not so important in case of getting unsecured loans. 3-month payday loans bad credit is principally possible. But there is something you need to take into consideration – the interest rate. With a bad credit score, it will cost you more in fees and interest rate. However, if you are able to pay it off earlier, it will positively reflect your credit score. Hence, when you decide on taking out another loan, you will have a better credit score.
3-month payday loans always come with much higher interest rates which are dictated by their short payments periods. On the contrary, the conventional payday loans have lower interest rates and you can pay in small regular monthly payments.