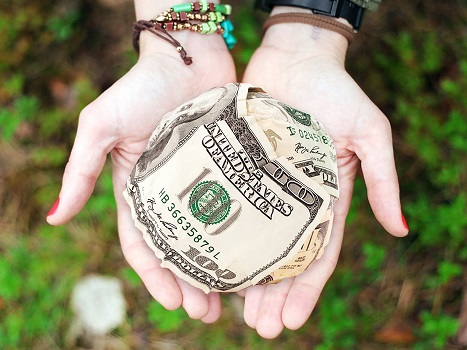 No one can deny, asking itself is challenging enough. But when it comes to loaning money, the challenge doubles. No matter how much money you make or how excellent your current financial situation is, one-day things may change very suddenly, without the slightest warning. That's where the knowledge about how to ask for money can save you in the hour of need.
Why is it hard to ask for money? The reason can be in fear of someone saying no or finding out that the person doesn't support the cause. Yet, one thing is certain, there is always someone who asks for money, and there is always someone who does this with pleasure. When there is a dire need of help to pay the rent or a few small bills, people who want to give loans can come to your aid. One thing to do is to get over the embarrassment in asking for money with several useful tips below.
Tips on How to Ask Someone for Money
One thing to remember here is that no one should think less of you for asking for money. Know what you want and set good boundaries. The worst thing that can happen is that they can say no. No worries, though, at least you'll be someone who tried.
How to Ask Parents for Money
Sometimes asking for money from parents or family members may be a more viable option than applying for a personal loan. Indeed, chances are that they are likely to lend you for little or no interest. Moreover, they will not ask for your credit score just because they know you personally. Yet, despite all the advantages, make sure you know how to ask for money from family.
First, look into other options. In fact, every time you want to ask people for money, go and look into other options first. In some cases, getting a loan online might be beneficial for you. Now, analyze the situation. If your parents or a family member struggle with their own finances, asking them for money is a big no-no. So, before you will even ask, make sure they can afford it.
Second, chances are that your parents will lend you money with no interest. Yet, it's in your own interest to offer to pay at least 2-4 percent in interest if you ask for a long-term loan. If you ask for say, for $5,000 loan and your parents can only $2,000 spare, don't negotiate by no means. Even if the money they offer doesn't meet your needs, take the offer graciously and think of it as progress towards your needs.
Third, whatever you do, make sure you make payments on time. Getting the money back sooner rather than later can be a huge boost to the relationship. Learn how to ask family for money just because sometimes that seems like the only option you have. If you want to know the best way to ask for money, forever delete from your vocabulary such phrases as 'I need', 'I deserve', 'You must', etc. Or else, you can immediately forget about any material help. Anyway, showing your parents, a friend or a family member how much you need their help can be a nice way to ask for money.
At last, here are five steps you can take to make the asking for money process easier:
Ask for advice first, money second;
Be honest and talk about why you need the money;
Don't deny mistakes and take responsibility for your financial decisions;
Plan ahead how to pay the money back;
Don't forget to thank for helping you out.
Where to Ask for Money Online
There's no wonder, for many, asking for financial help from family and friends is a big no-no. Why not use the advice of specialists? There are endless ways to ask for money online, from crowdfunding sites to online lenders. Thanks to organizations offering to get financial help online, the opportunity to get a loan looks more viable. And you don't even need to hit the streets with the hat in hand to request money you need. Being in debt is no joke, but being not able to pay your debts can mean much worse things.
To make things clear, asking for money online isn't anything new. It takes less than a few minutes and comes with no embarrassment of being in debt with family. One of the greatest things about the Internet today is that it's made asking people for cash you need to support your dreams infinitely easier. Besides, it's worth to mention that it's not just people with no cash who borrow. The wealthy borrow, too. So, you are far not the one who is trying to find how to ask for financial help.
So, let's assume what options you have and who to ask for money:
Direct donation – is an affordable way to have money directly form charity organizations. It seems like one of the easiest ways to ask for financial help. Yet, there is no absolute guarantee to get money immediately. If you are definitely in need and receive no support from a charity foundation, a direct donation is your safe bet.
Crowdfunding – generally used in the business filed, crowdfunding means a legitimate process of raising money to fund the company. This way, you get money from different sources that want to invest their money but not directly as a loan. Getting money, you need to go through some paperwork.
Social media – is a great option when it comes to asking people for money. If you fail with a donation or didn't find rich people, solve this situation with your social media account. Share your objective to attract as much attention as possible for having new financial support.
Online fundraising – focuses on charity, environment, and philanthropy ideas. Without meeting eyes to eyes, the members of online funding put their money for a specific purpose or project. How to ask for money with online fundraising? Build your own website or use another online platform to gather funds from various sources.
Personal loan – in most cases, personal loan seems like a better option. How to ask for a loan? Shop around, there are a lot of online lenders offering a personal loan to people in need. A quick and simple application process opens up a door of opportunities within a few minutes. Moreover, everything can be done online with no waiting in the queue.
Okay, now let's talk in general about some key guidelines on how to ask for money online legally. The first thing to do is to do research. Find as much information as possible before applying for a personal loan. The truth is, there are just a handful of online lenders people actually use. Once you know how much you need to make your dreams a reality, you can get the cash within the next day. That doesn't always work with crowdfunding campaigns, in fact. There's always a risk that people will give you way more money than you asked for. And if you have no idea of what to do with that extra money, it's not your option.
How to Ask for Money Politely?
Do you want to make the ask be a pleasant and enjoyable experience? Let's learn how to ask for help with money and make the asking less harrowing affair. The very first thing to consider here is to build a deeper relationship. No matter whom you're going to ask for money – a friend, parents or a family member, make your first a non-monetary ask. Get them involved, show how they can make a difference in reaching your goal, then only ask them to give.
Once you are sure that the person understands the impact of why you need what you are asking for, make the ask. Make sure it sounds a question, not something specific and concrete. At last, don't be afraid to write a script for yourself. This way you'll feel more comfortable once you're on the action.
Even if your friend or a family member refuses to pay you the amount, it shouldn't harm your relations. One way to avoid this is to manage your money in such a way that you don't have to ask for financial help in the future. Yet, in case you slipped up, at least you know how to ask people for money to support your dream.
Which Option does Most Resonate with You?
Whether you have a new idea that needs some extra cash or wish to pay the rent, the rules of how to ask for money are the same. Everything starts with why and moves down to exactly what to say and what's more importantly when to say it. Once you learn these tips for asking for money, getting the funds you need will be easier. Now, go and make something happen.